Italy
Eternal City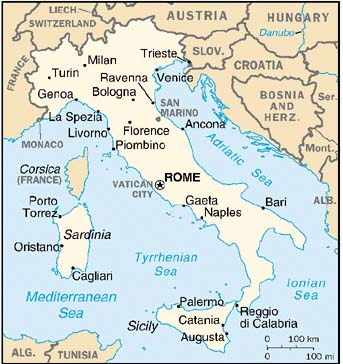 Map of Italy
About Rome: Italy's most beautiful and exciting city. Wander through the narrow streets and open piazzas. After you've taken in the awe-inspiring Coliseum and the magnificence of St. Peter's Basilica, relax with a gelato or a cappuccino in a sidewalk cafe.
Browse elegant shops while you stroll along Via Condotti and enjoy people watching on the Spanish Steps.

Climate: Predominantly Mediterranean; Alpine in farnorth; hot, dry in south. At its coolest (December to February), the temperature averages 55°F (13°C); at its warmest (June to September), it averages 85°F (30°C) but may reach 90°F (32°C).
Documents: Passports are required for Australian, Canadian and U.S. travelers staying in Italy for less than 90 days. EU citizens can show their EU Nationality Identity card. Reconfirn travel document requirements with your carrier prior to departure.
Health Certificates: No vaccinations are required.
Currency: Italian lira. US$1 = 2214 Italian lira.
Electricity: 220 volts. Although the three-prong round plug is preferable, a round two-prong works as well.
Taxes and Tipping: Tipping is not mandatory. At times a service charge (servizio) is included in your restaurant bill, if the service charge is not included, leave a 10% tip.
Time: 1 hour ahead of Greenwich Mean Time (+1 GMT). Daylight Saving Time is observed from the last Saturday in March to the last Saturday in October.
Transportation: Trains from Leonardo da Vinci Airport go directly to Rome's central Stazione Termini 15 times a day. The trip takes approximately 30 minutes. The subway or Metropolitana (Metro), run daily 5:30 am - 11:30 pm. The stations are marked aboveground by a large red M sign. Tickets are valid for 75 minutes and allow you to ride one bus or more or to take one subway ride within this time limit. Taxis are usually white, but all are marked and metered and operate 24 houts. Order them by phone or at taxi stations marked with blue-and-white taxi sign, The meter starts at 4,500 lire and increases by 1,300 lire every kilometer or every two-minutes, whichever comes first. Late night, luggage, supplement apply. Most taxi drivers do not speak English, so it is a good idea to have the address of your destination written down.
Languages: Italian. English is widely spoken.
Departure Tax: None