Tahiti's Top Activities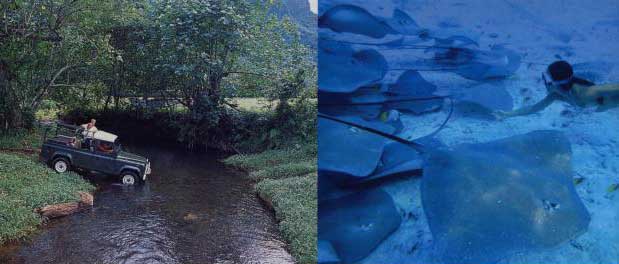 A SAMPLING OF THE "BEST OF THE BEST"

TAHITI

In Gauguin's Footsteps... Half-Day West Coast Tour $61
Visit to the Museum of Tahiti and Her Islands, the ancient Temple, or "Marae" Arahurahu, the lush Mara'a fern grotto and entrance to the Paul Gauguin Museum.

Inland by 4 Wheel Drive $85
Discover the lush and verdant inland valleys and Tahiti's Fa'aruumai waterfall. Pass through tropical forests teeming with giant ferns, bamboos and guava trees to La Maroto, from where Tahiti's main crater is visible.

Grand Circle Island Tour with Lunch $96
Discover all the highlights of "Tahiti Nui", the largest portion of the island, with visits to Pointe Venus vista lookout, Arahoho blowhole, Vaipahi Garden & Waterfall, Mara'a fern grotto and Gauguin Museum.

MOOREA

U4 Safari Excursion $57
Venture in the lush valleys of this beautiful island, pass through vanilla groves and discover archaeological sites. You'll particularly enjoy the panoramic views from Belvedere lookout point.

Lagoon & Motu Beach Picnic $90
Discover the beauty of Moorea's lagoon by catamaran on your way to a secluded motu. Here on the motu, snorkel, stroll along the beach or nap under a coconut tree before enjoying a BBQ lunch with fish and meats and fruit.

Tiki Village Dinner Show $99
Learn about Polynesian customs and culture in a unique and authentic setting. Your evening includes an international buffet dinner along with the spectacular Tahiti Revue with traditional Polynesian songs and dances.>

BORA BORA

Glass Bottom Boat $47
Get acquainted with the coral gardens and tropical fish in Bora Bora's stunning lagoon without leaving your boat. A canopy on the boat provides cool shade while you view the marvelous underwater scenery.

Dinner at Bloody Mary's $70
Enjoy a three course dinner at one of the most popular restaurants on Bora Bora. You will be amazed by the unique and fun decorum. The restaurant floor is covered with fine white sand and all the furnishing is made out of coconut lumber! Try one of the fresh catch of the day. It is simply delicious!

Shark & Sting Ray Feeding Safari $77
An amazing, truly unique adventure not to be missed! See your guide attract some small reef sharks and watch the feeding with the sharks passing right in front of you. On your return, stop for ray feeding - these gentle creatures will eat bait right from your hand.

U4 Excursion $78
Explore some of Bora Bora's secluded regions and mountainous interior, making your way through lush vegetation and discovering ruins of ancient marae and World War 11 defense bunkers and canons.