Travel to Mexico
A Timeless Destination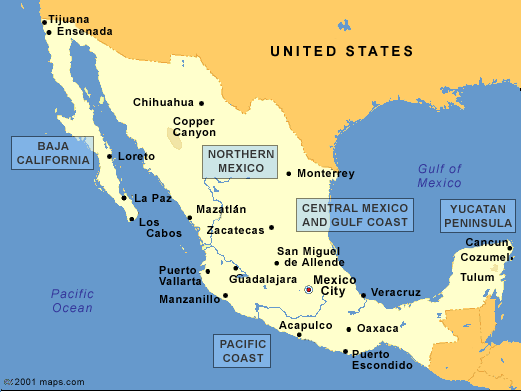 Proof of Citizenship
Proof of Citisenship is required for travel into Mexico, this is a Mexican Immigration requirement. Following are the only acceptable forms of documentation.
Passport - A valid passport is always acceptable for travel across international borders.
Birth Certificate - If passengers are using a birth certificate it must be a notarized copy of a state issued birth certificate. This, along with a valid (state issued) photo ID, will allow travel in and out of Mexico. Certificates issued at the hospital are not valid birth certificates, these are mementos only.
Letters of Consent The regulation has been suspended until Jan 24, 2014. Prior to the suspension, a notarized letter of consent is required for all minors under 18 traveling to Mexico unaccompanied or with one parent. The following exceptions apply.
Traveling parent has custody of child (sole or exclusive custody is not required); if parent has an official court document granting shared/joint custody, the Letter of Consent is not required.
The other parent is deceased, a death certificated is required.
Fathers name does not appear on the birth certificate. All states require mother's name to appear, not all require father's name.
Without the notarized letter in the possession of the minor, the Airlines have no option but to deny the passenger boarding. This is a Mexican Immigration requirement.
Sample Affidavits provided for your convenience.