Discover The Loire Valley Program Details
2 nts. in Montbazon 2 nts. in Saumur, 1 nt. St. Symphorien & 1 nt. Gouviex Chantilly (Paris)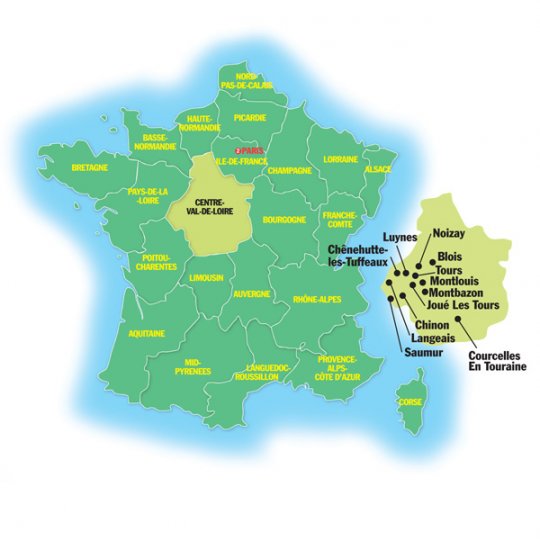 Discover the Loire Valley
Day 1 Paris/Loire Valley (about 270 kms)

Pick up your rental car at a Hertz location in Paris and drive to Orleans, the capital of the Loire Valley. Start by visiting the House of Joan of Arc, the Museum of Beaux Arts and the Hotel Groslot, a Renaissance mansion built in 1550. Continue on to Chambord and visit the impressive and majestic Chateau de Chambord, one of the most spectacular chateaux of the world. Built by Francis the 1st as a hunting lodge, you'll be impressed by the huge hunting reserve that covers as much ground as all of Paris. Your overnight stay is at the Chateau d'Artigny in Montbazon.
Day 2 Montbazon/Tours/Chenonceaux (about 50 kms)
After breakfast, begin your day with a visit to Tours. A place of art and history, this ancient Gallo-Roman city was once the capital of the Kingdom of France. Visit the magnificent cathedral of St. Gatien which was begun in the early 13th century and completed in the 16th with its flamboyant Gothic facade and medieval stained-glass windows. After Tours, drive to the heart of the valley, along the River Cher where you'll find the most romantic French castle, the Chateau de Chenonceaux. Stop for your included lunch at La Cave, a delightful restaurant located, literally, in a cave. Before going back to your chateau/hotel, stop in the village of Mont Louis for a wine tasting in the city's cellar filled with reds, whites, roses and sparkling wines. Your overnight stay is at the Chateau d'Artigny in Montbazon.
Day 3 & 4 Montbazon/Saumur (about 70 kms )
Today continue to visit the various chateaux of the region and discover the beauty that surrounds you. Depart for Villandry and visit the Chateau de Villandry best known for its magnificent flower and vegetable gardens. Then on to the Chateau d'Azay-le-Rideau, a beautiful 16th century chateau filled with period furniture. Continue on to the charming town of Saumur. Located on the Loire River, the town is celebrated for its fairy-tale Chateau, cavalry school, mushrooms and sparkling wines. Your overnight stays are at Le Prieure in Saumur.
Day 5 Saumur /Angers/Chartres/St. Symphorien (about 350 kms )
This morning start by visiting Angers, one of France's most beautiful cities. Visit the Jean Lurcat and Contemporary Tapestry Museum to see the dramatic tapestry 'Chant du Monde'. Take a short stroll from the Cite to the Doutre, where you can find a lively atmosphere, or enjoy the quiet banks of the Maine. Continue on to Le Mans, on the Sarthe River. After Le Mans, continue on to St. Symphorien for your overnight stay at the Chateau d'Esclimont.
Day 6 St. Symphorien/Paris (about 100 kms )
After breakfast, return your rental car to the airport in Paris. Your overnight stay is at the Chateau Montvillargene in Paris.
Day 7 Paris to USA (or extend your stay)
After breakfast, depart to the airport for your return flight home.
INCLUDED - LA CAVE RESTAURANT
A unique dining experience awaits you at La Cave, a troglodytic restaurant located, literally, in a cave. The atmosphere is warm and friendly and a great place to experience the local cuisine. Price per person $74
LOIRE VALLEY OPTION:
WINE TASTING AT THE DOMAINE DE BEAUVOIS The wine tasting takes place in the private trogloditic cellar of the resplendent chateau, Domaine de Beauvois. The cellar, hewn from rock, has some 100-year old vintages. Some of the area's wine labels, St Nicolas de Bourgeeuil, Chinon, Vouvray and Saumur can be found at this cellar. Price per person $56
Call for reservation